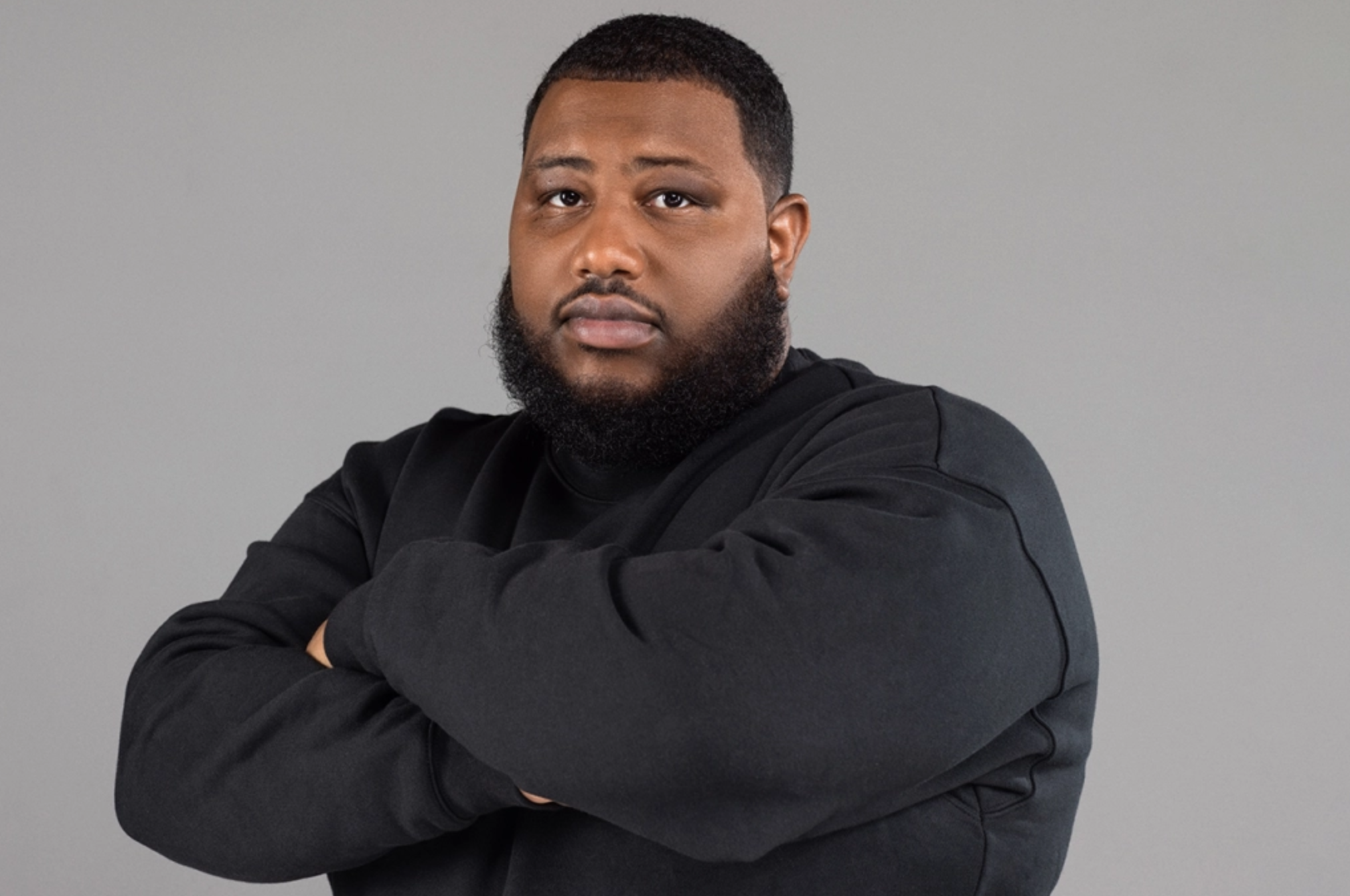 Trauma Tone Reflects On His First Beat Placement, Cites M.I.A. As A Dream Collaborator, & More For "On The Come Up"
Trauma Tone formally introduces himself on HotNewHipHop's "On The Come Up."
Jermaine Dupri Reflects On "Tone Def" Singers At "Making The Band" Audition
Meet Trauma Tone, one of the incredibly talented artists featured on this season of HNHH's "On The Come Up." However, it would be criminal to describe the steadily rising producer as a novice in the music industry. In fact, you have probably already heard some of Trauma Tone's unforgettable beats. Nearly a decade ago, the Virigina-born hitmaker was cutting his teeth with up-and-comers like Chief Keef and Rich Homie Quan. Now, when looking back, it's evident he was also making classics in the process.
For instance, Tone's early work includes cult classics like Chief Keef's "Blew My High" and fan-favorite Rich Homie Quan tracks. He produced I Promise I Will Never Stop Going In standouts like "Man of the Year" and "1000." Furthermore, Trauma Tone also created the creeping beat for Yo Gotti and Rich Homie Quan's platinum-certified collaboration "I Know."
After the success of his breakthrough placements in the early 2010s, Trauma Tone continued to grind. Over the following years, he put his beats in the hands of artists like Money Man, Jacquees, Plies, Iamsu!, Skippa Da Flippa, and Dreamville's own Cozz. However, the 2020s ushered in a new — and unquestionably well-deserved — era of prominence for the hardworking producer.
In 2020, Trauma Tone supplied beats for Kevin Gates' popular songs "Dreka" and "Always Be Gangsta Freestyle." Soon thereafter, Trauma Tone went on to work with Curren$y on his collaborative album with Fendi P, Smokin' Patnas. He also landed placements on Sada Baby's "Aunty Stella," Bino Rideaux's OUTSIDE project, and Money Man's popular Epidemic mixtape. However, things really took off after Trauma Tone landed a beat placement on NBA YoungBoy's second studio album, Top. Thus, "Cross Roads" subsequently became Tone's first-ever song to be featured on a Billboard 200 chart-topper.
Since then, Trauma Tone's pool of collaborators has been rapidly expanding. A wide range of artists — from Migos, BlueBlucksClan, and Duke Deuce to Dej Loaf, Lil Reese, and Shy Glizzy — have rapped over the Virginia producer's beats in recent years. Without a doubt, Trauma Tone is currently in high demand. Get familiar with him by checking out his exclusive interview for HNHH's "On The Come Up" below.
On The Come Up: Trauma Tone
HNHH: Tone, how'd you get into music?
Trauma Tone: I got into music as a kid. My older cousins was like, really into the music scene on a local level. They had a little studio that they used to go to. When my mom used to send me to my cousin's house during the summer breaks, they would always take me to the studio. I would pick up on little things.
You mentioned some of your family. Who are your biggest musical inspirations?
Some of my biggest musical aspirations are — of course — Timbaland, Neptunes, Kanye, [and] Dilla. There's a lot of them, but those are some of the first ones that come to mind as far as inspiration.
What was the turning point that helps you realize you are on your way to becoming successful?
The turning point that helped me realize I was on the road to success was when I got to placement with Chief Keef. That was, like, the first song I did, right? But it was like some mixtape shit. I knew that that was gonna help me get my name out there, you know? Before that, I had no big songs. It was local stuff. So now that I got this record, it's like okay, I can start hitting people up, networking, and showing them that I got some out there. And it worked.
That's fire. And you said that was your first track where you got placement?
Yeah, it was a song called "Blew My High." I think it was on the [Almighty So] project. Shout out to my boy, [Westside] Webb. I did that with him.
You really gotta not give a fuck about what people say and focus on your sound. Tune all that other shit out when it comes to that creative process. Do the music that you want to do.
If you can, summarize that song and like what inspired you to make that in the first place.
When it comes to making beats, I really just be in a vibe, you know what I'm saying? I don't think it was nothing that really inspired me at the time. I just was like, you know, in grind mode, knocking beats out. That just happened to be one of the ones that got picked out the batch.
If a music fan were to discover you today for the first time, what song should they listen to first?
If a music fan was to discover me today, I think the song that I would want them to probably get hip to first… Probably go all the way back to "I Know" by Yo Gotti and Rich Homie Quan. That was one of the ones for me.
Tell us about a valuable lesson you've learned during your
A valuable lesson learned on my come-up would be — and this probably sounds cliché. But you really gotta not give a fuck about what people say and focus on yourself, your sound. Tune all that other shit out when it comes to that creative process. Do the music that you want to do, you know what I'm saying? Create that vibe that you want to feel when you in a club or when you riding in the car. Don't go chasing a sound or let people come into your world and alter your shit.
Tell us about your hometown and how it influences your music
Damn, I got a lot. My hometown does inspire me in a way because there's so many different vibes there. Of course, we got UVA. That's like, you know, the college kids. Then you got the hipsters, the skaters, and all that type of stuff. But it's pretty much a sprinkle of everything in the city. So you get to, you know, take pieces from different sounds, looks, styles, and all that and make it one thing.
Where do you hope your music career takes you?
Where I like to see my music career take me…hopefully to the top, man. I want to be one of the best producers, you know what I'm saying? Like, that's pretty much it. Well, creatives in general, you know, it's more things that I want to do besides producing. But definitely, that's one thing I want to check off the list. You know, I just hope that just opens up other avenues for me to show my creative ways in other avenues and lanes.
If you could create your dream song, unlimited budget, what would it sound like? And who would you put on the track?
If I had an unlimited budget to create the song that I would want to make, honestly, I feel like it'd just be me and M.I.A. because that's somebody that I want to work with a lot. I love her sound. And I just feel like we could do some different shit. If the budget was a little bit [more], I would like to do a whole album, you know, something like that. I think it'd be dope.
That sounds lit, bro. Speak it into existence.
For sure.
Last question: Give one piece of advice to aspiring musicians on the come-up.
My advice to young producers on the come-up: Don't let your situation hinder you. Whether that be not having many followers on the 'Gram or being in a small town. You got to reach out. Work with artists in your city; try to build a sound. Reach out to artists, on social media platforms. Hell, get outside of your city. Come to some of these bigger cities and just network and move around. 10 years from now, you don't want to be thinking like, 'Damn. I never even got out there or even tried.' You just got to try this shit. We don't know what works. We just out here trying to crack a code every day. And this shit is constantly changing. So you know, that's my advice.

Source: https://www.hotnewhiphop.com/617941-trauma-tone-reflects-on-his-first-beat-placement-cites-m-i-a-as-a-dream-collaborator-more-for-on-the-come-up